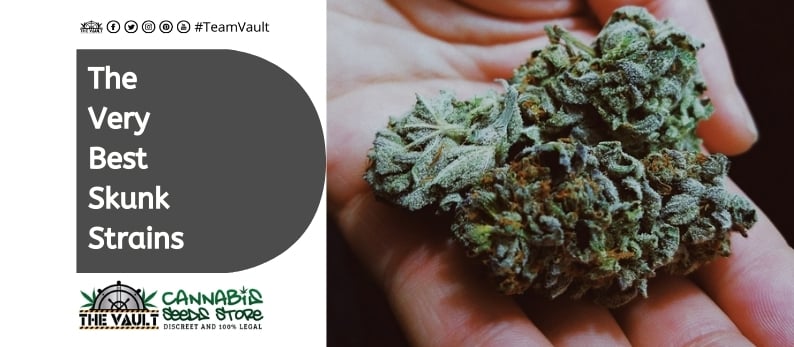 Skunk is one of the most famous cannabis strains in the world. It was brought to market in Amsterdam in the 80s and since then it has had a relatively decent amount of offspring. Skunk has been used to great a number of new fantastic strains, and those strains have been used to create strains. At this point, I'm pretty sure original Skunk has reached great grandmother status at least. Skunk strains became so synonymous with power that strong weed began being referred to as Skunk, whether it actually was or not. We are going to explore just a few of the wonderful strains that were born of Skunk.
History
Skunk has a fascinating history, even though she has only been around for 40 years. Though she has only really been on the market since the 80s, she has actually existed since the 70s. In sunny Santa Cruz breeders were messing around with a range of genetics, trying desperately to create something new and special. They wanted something powerful, vigorous, high yielding, easy to grow, heavy-hitting and generally a cut above the rest. They found Skunk by combining Columbian Gold, Acapulco Gold and Afghani. Once the basic strain was created by the Americans it went to the Dutch to be perfected, then was released in the Netherlands. Since then she has remained popular in her true form but has also been used for a lot of breeding and genetic engineering. Over the past four decades, she has been used to create the following amazing strains.
Super Skunk
We may as well get started with some of the best stuff on the market. This baby was created by combining Skunk and Afghani. She is an award winner and took 1st place in the Highlife Cannabis Cup. This strain comes from Sensi Seeds, and before they got to this winner they did a lot of work with Skunk genetics. This lady is an Indica/Sativa hybrid with a powerfully relaxing and physical effect that is ideal for night time usage. The second this strain hit the market it started selling like hotcakes and just didn't stop. For anyone who is stressed out, anxious, or struggles to get to sleep Super Skunk is the strain. She takes 7 – 8 weeks to flower and can be grown indoors, outdoors or in a greenhouse.
Skunk Kush
It may not come as a surprise that the combination of Skunk and Hindu Kush is a very special plant. She is high yielding and has all of the physical power of the Skunk mother. The strain is a balance of Indica and Sativa but definitely has an Indica effect. As with many Skunk offspring, she is heavy, physical and relaxing. The high lasts and lasts so she definitely is good value for money. These plants are tall, vigorous and extremely resinous taking all the best bits from each parent plant. Skunk Kush is also well known for its scent and flavour, which are strong and lemony with a delicious musky undertone. This strain has a flowering time of just 50 – 60 days and can be grown indoors or outdoors.
Bloody Skunk
This one is a few generations away from the original Skunk but is a great example of how well those genes permeate. Bloody Skunk is a combination of Sweet Skunk and Red Poison. She is also an Indica/Sativa hybrid but is a little more balanced than some of the Skunk heavier strains. She has that body relaxation with a hint of cerebral high to it. It is nicely even and isn't likely to push smokers too far in any direction. She is best known for her looks, her deep green leaves and blood-red pistils. She has all of that lovely Skunk citrus to her flavour and scent mixed with a little spice from the Red Poison side of the family. She is described as being perfect for Skunk lovers who are looking for something a little different. She has a flowering time of 8 weeks and can be grown indoors, outdoors or in a greenhouse.
Shiva Skunk
Shive Skunk is an impressive cross between Northern Lights #5 and Skunk. Both strains are well known in the cannabis community for their quality. Northern Lights is almost as famous as Skunk and she has definitely earned it. This cross is very close to the original Skunk and was released in 1987. Just like Northern Lights the buds are large, dense and completely covered in the trademark coating of resin crystals. From the Skunk parent, we get the classic vigorous growth and impressive yields. This strain is Indica dominant and has a powerful, long-lasting bodily stone with just a hint of head. This strain is definitely the one for classic plant lovers, a mix of two of the finest classic plants around. Shive Skunk has a short flowering time of 45 – 55 days and can be grown indoors or outdoors.
Critical Skunk
This cross of Critical Mass and Skunk really brings out one of Skunk's finest attributes. She has always been known for the amazing yields she produces, well now they are the stuff of legend. These plants are incredibly impressive, especially when they are grown outside. They maintained the classic Skunk look, just on steroids. The yields usually sit at around 650 – 800 g/m2 outdoors. This version has actually gone over to the Sativa dominant side. The effect is still relaxing and bodily but has a real Sativa lift to it. For anyone who has the grow space for these babies, they could not come more highly recommended. This is definitely one for Skunk lovers, like hardcore Skunk lovers. These are also great plants for commercial growing, but they need plenty of headroom as well as space around to grow. The flowering time of this strain is just 6 – 8 weeks and can be grown indoors, outdoors or in a greenhouse.
Newsletter Sign Up
Make sure you never miss another Vault promo – sign up for our newsletter at http://goo.gl/Bt2Ba2
Remember: It is illegal to germinate cannabis seeds in many countries and some remote, less enlightened planets outside the core systems. It is our duty to inform you of this fact and to urge you to obey all of your local laws to the letter. The Vault only ever sells or sends out seeds for souvenir, collection or novelty purposes.