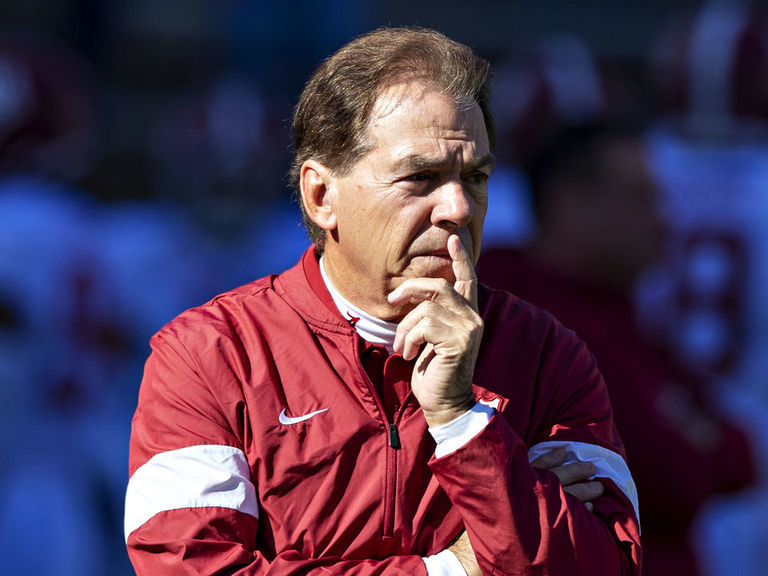 Nick Saban isn't sold on playing football during the spring.
The Alabama head coach has some concerns regarding whether schools will have most of their starters on the field during the postponed campaign.
"I think one of the real consequences of this is, if you're a junior or a senior and you have an NFL grade, are you going to play in the spring? Or is that going to become sort of a JV (junior varsity) season with a lot of these juniors and seniors opting out?" Saban said Tuesday on "Get Up," according to ESPN's Alex Scarborough.
Several college football players have said they'd be unwilling to play a spring season due to the injury risk with the NFL draft following soon after, Scarborough adds.
Purdue head coach Jeff Brohm shared a detailed plan Thursday to play the postponed Big Ten fall football season in the spring. Brohm's eight-game slate would run from Feb. 27 to April 17, which is just 12 days prior to the first day of the 2021 NFL Draft.
Several highly touted prospects have already decided to skip the 2020 season – regardless of when it happens – and begin preparing for their pro careers. The list includes Penn State linebacker Micah Parsons, Miami defensive lineman Gregory Rousseau, and Purdue wide receiver Rondale Moore.
Two Power 5 conferences – the Big Ten and Pac-12 – canceled their fall campaign and plan to explore playing a postponed season during the spring.
Meanwhile, the SEC, Big 12, and ACC released pandemic-adjusted schedules for the fall and are set to play football in September.
"Everybody's circumstances and situation is a little bit different," Saban said. "I actually hate it for the players who won't get the opportunity to play and compete and create value for themselves."
Alabama, which is scheduled to open its season on Sept. 26 at Missouri, hasn't had any players opt out of the 2020 campaign.