Laurie recently went to a potluck dinner—with emphasis on the "pot." She brought three cannasalads, and this one was the most popular. Everyone wanted the recipe—so here it is.
May 29, 2015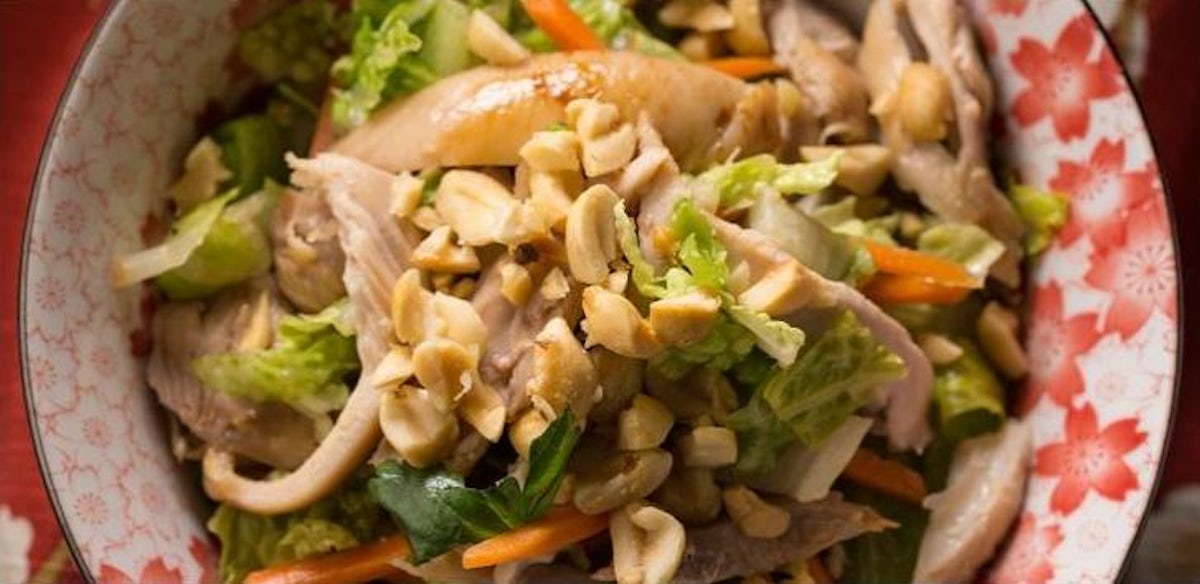 For the dressing:

Zest and juice of 1 lime

2 tablespoons prepared wasabi

2 tablespoons seasoned rice wine vinegar

4 teaspoons cannaoil

1 tablespoon peanut oil

1 tablespoon low-sodium soy sauce

1 teaspoon agave nectar or honey

1⁄4 teaspoon ground ginger

Freshly ground black pepper, to taste

For the salad:

21⁄2 cups shredded cooked chicken (from 8 ounces chicken breast)

1⁄2 head napa cabbage, shredded

1⁄2 head romaine lettuce, chopped

2 large carrots, shredded

2 stalks celery, thinly sliced

4 green onions (white and green parts), cut on a diagonal

1 cup julienned snow peas

1⁄2 cup chopped fresh mint leaves

1⁄2 cup chopped fresh cilantro leaves

1⁄2 cup chopped roasted unsalted peanuts
Make the dressing:
Put all the ingredients in a glass jar with a tight- tting lid. Screw the lid on, making sure the seal is tight, and shake vigorously to combine.
Make the salad:
Combine all the ingredients except the peanuts in a large glass bowl. Pour the dressing over the salad and toss well to combine.
Top with the peanuts before serving.
This delicious recipe is from our cookbook:

Herb: Mastering the Art of Cooking with Cannabis.

Like this recipe? Get your copy today

See the reviews and get your copy on Goodreads and Amazon.
Cannabis For You, Near You
Join the Herb community and get exclusive offers, early access to products, and good vibes.
May 29, 2015 — Last Updated